Phew. These past fews months have been pretty intense. Lots goin' on and what feels like very little time to fit it all in. Sound familiar?
The big change on my end has been starting my clinical internship, providing social/emotional support to local youth. I feel like an outsider lots of the time, stepping into this tight knit neighborhood community, but good news is… I'm slowly building relationships and in the meantime the kids are cracking me up (i.e. last week a six year old girl asked me why my teeth are so yellow). So now, I'm a health coach with bad teeth, I guess. How dare she! 😉
Anyway, jokes aside, I'm sure you've got just as much on your plate as I do, and could use a little self-lovin'.
That's where today's recipes come in. They are simple and very soothing (and perhaps responsible for my "yellow teeth?" I'll keep telling myself that).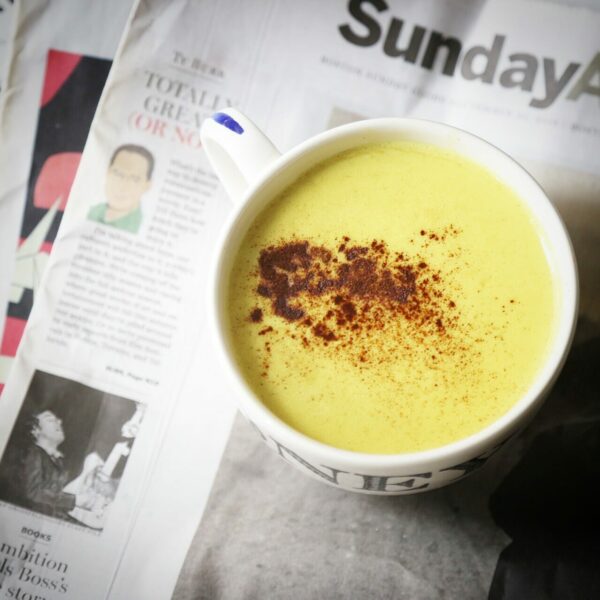 Both recipes below are great to use first thing in the morning or right before bed.
Prior to making either, start by making the "Golden Paste," which is good in the fridge for up to two weeks. ENJOY!
Golden Paste:
In a saucepan, heat (on low heat) 1/2 C water with 1/4 C turmeric. Stir continuously for about 5 minutes. It should be relatively thick. Empty into a mason jar.
Turmeric Latte (aka Golden Milk)
In a saucepan, using low heat, warm 2 C coconut milk/almond milk/or raw cow's milk, 1 tbsp. golden paste, 1 tsp. coconut oil, 1/4 tsp. chopped ginger, 4 black peppercorns, 1 tsp. cinnamon, and a bit of honey or maple syrup to sweeten.
Optional: add tsp. vanilla
Strain (or not, if you don't mind peppercorns and ginger in the bottom of your cup) and enjoy while warm.
Turmeric Tea (aka Golden Tea)
Bring 1 C of water to a boil. Add tsp. Golden Paste and 1/4 tsp. chopped ginger. Reduce heat and simmer for another 10 minutes.
Optional: add vanilla, cinnamon, and/or honey to taste