When it comes to homemade food (especially dessert) my brother has a tendency to exaggerate.
"I'm telling you, I'd drive in from Framingham just for one of these."
"I'd pay a good sixty bucks for a tray of these, no joke."
It's hard to stay humble having a guy like that around. He leaves and you think to yourself "well, maybe I should open my own restaurant, god darn it!"
We all need someone like that in our lives, no?
Anyway, you ready for the recipe? The one my brother would apparently drop huge sums of money for?
This week I'm sharing the recipe for the infamous congo bar…
Inspired by Pure Food and Wine, my favorite raw food restaurant in NYC, this congo bar will challenge your love of processed sweets and open you up to the world of guilt-free desserts – there's a good chance you'll never look back.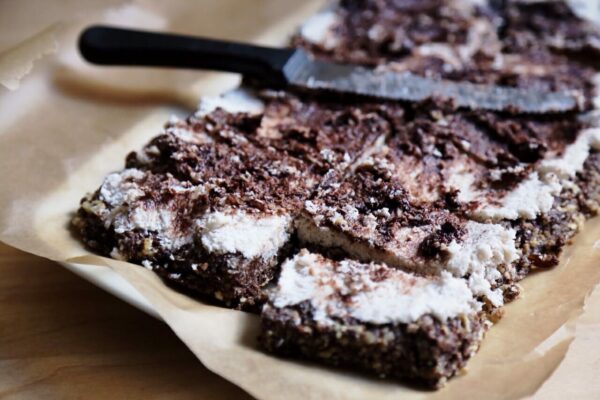 Fudge Base:
2 C walnuts
2 C pecans
1/2 C raisins
1/2 C shredded coco
1/4 C maple syrup
1/4 C coco oil (liquid)
sea salt
**
[Chocolate sauce]
3/4 C raw cacao powder
3/4 C maple syrup
1 tsp. vanilla extract
2 tbsp/ coconut oil (liquid)
Process the walnuts and pecans. Pour into a mixing bowl. Add raisins, shredded coco, maple syrup, coco oil and sea salt.
Separately process the ingredients listed under "chocolate sauce." When fully processed, add to the mixing bowl with the other ingredients.
Pour this mixture into a brownie pan (lined with parchment paper) and pat down evenly. Refrigerate while making the topping.
Vanilla Coconut Topping
1 C young coconut meat
3 tbsp. raw honey
1 tbsp. vanilla
3 tbsp. coconut oil (liquid)
2 C shredded coco
**
[Chocolate oil]
2 tsp. coco oil (liquid)
3 tsp. raw honey
3 tsp. raw cacao powder
Process the first five ingredients. Spread evenly on the top of your refrigerated bars.
Process separately the ingredients listed under "chocolate oil" and for your final step, drizzle this on top as a third layer.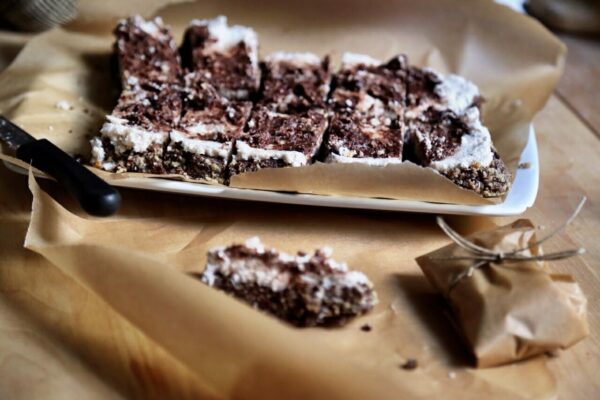 How'd you like it? Let me know in the comments below!