Because I love the way they look.
And taste. And because I got to get rid of piles of carrot pulp from days of juicing. And because I made them in a matter of minutes, and I know you like the quick stuff. And because eating just one with a cup of chamomile tea is the perfect way to spend a fall afternoon.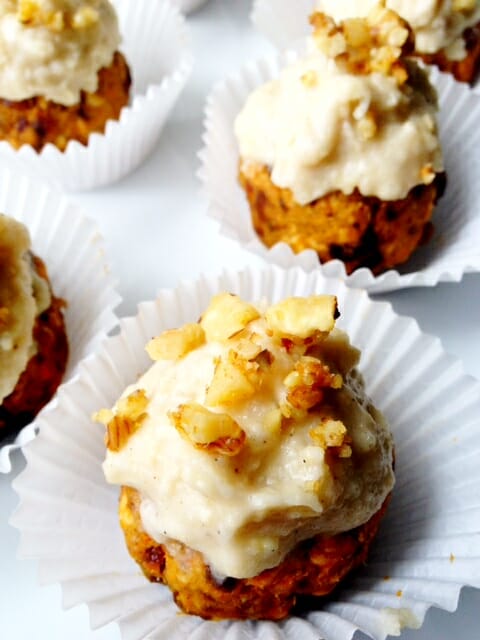 If you know me, you know I choose chocolate whenever possible, but there's something about eating carrots for dessert that just intrigues me.

Note: high speed blender and food processor highly recommended!
Creamy Cashew Frosting:
Blend 1/2 cup cashews (ideally soaked for a few hours), 1/4 cup coco oil, 1/4 cup water, 1/4 cup raw honey, 2 tbsp. lemon juice, 1/2 tbsp. vanilla. Keep blending until it's smooth. Chill while preparing the cupcake base.
Carrot- Apple Base:
Process 2/3 cup walnuts completely. Add 1 1/4 cup dried apples, 2/3 cup carrot pulp or shredded carrots, 2/3 cups Medjool dates and process until combined. Add 1 tsp. cinnamon, 1/2 tsp. ground ginger, and sea salt to taste. Transfer this dough to a bowl and mix in a handful of raisins.
And then…
Press the dough into cupcake liners, big or small mounds, whatever you prefer.
Frost your cupcakes and top with chopped walnuts. Any leftover frosting can be eaten by the spoonful at a later date. Refrigerate until you're ready to eat or to serve.
And finally, take your tea and your cupcake and go shuffle your feet through the fallen leaves.
**Recipe inspired by Judita Wignall of Raw Judita